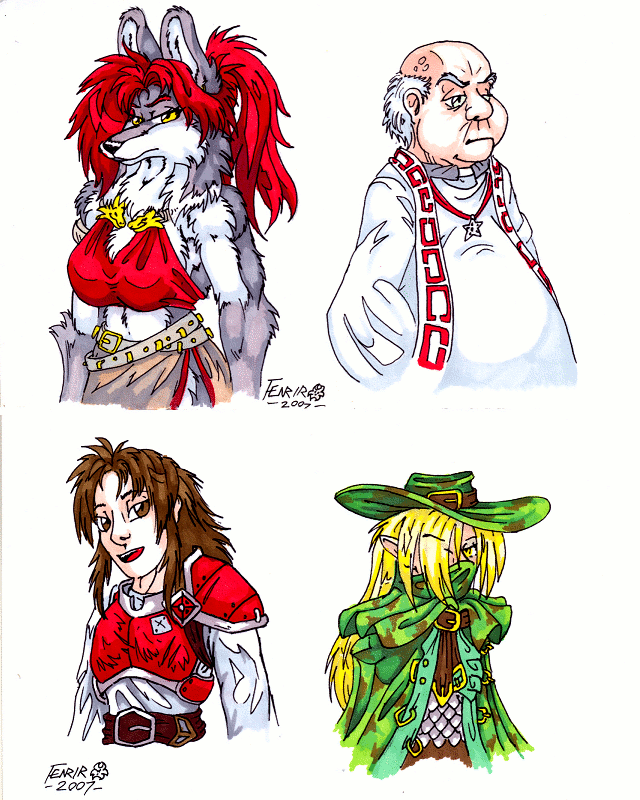 First off is Freki, the "Skirmisher". Think of her as a fast, lightly armored fighter. The game's first iteration has her simply to pick the first party member - but in the expanded VoM game, she becomes a full fledged party member of her own. Right at the game's midway point where you have to regather your party from scratch. I'd like to think of her like Celes from FFVI in that regard, trying to find her friends in a desolate world.
Frumpy is the only character whose name was chosen by the OHRRPGCE community, and has been the most popular of the
Vikings
cast (for good reason). Unlike the stereotypical cute, soft spoken healer female of so many jRPGs, Frumpy is an overweight, passive-aggressive intolerant religious fanatic bent on converting the heathen races of Midgard to the "faith of the light". He's partly based off of Gralcus the Dwarf Paladin from
Timestream Saga
, given that he's a "serious" character stuck in a group of alcoholics and teenagers.
Kitt the Warrior is little more than your standard jRPG fighter, and doesn't have much character development. Kitt was also the first character designed to be playable for VoM, which partly explains his lack of development since the player is supposed to identify more with him by default. Most of the game's character dialogue is intended to have him as the speaker. He's based SLIGHTLY off the more easygoing, wise-cracking aspects of Kyle Kitatain's personality, and this is partly evident in his name "Kitt". It's also a longstanding tradition of mine to have a main character with a hard "C/K" name as the protagonist (Cale, Kyle, Kotaru).
Styrge the Ranger has a camo cloak that lets her blend in with her surroundings - it's mainly a stylistic feature than anything, though since she's one of the more introspective characters, that cloak covers her mouth. You can't really see her facial expressions all that well as a result. She's got a ridiculous amount of emotional baggage that keeps coming back to haunt her over the course of the game too. She was developed as an "alternate" Fighter-class in tandem with Kitt the Warrior, since she focuses more on instant kill attacks against various enemy types, while Kitt has some more traditional jRPG warrior skills. Her namesake is the same as that of Siva and Nevok Styrge of
Timestream Saga
, but the similarities end there. I take that back - Siva could talk to forest animals too, and see hidden passages.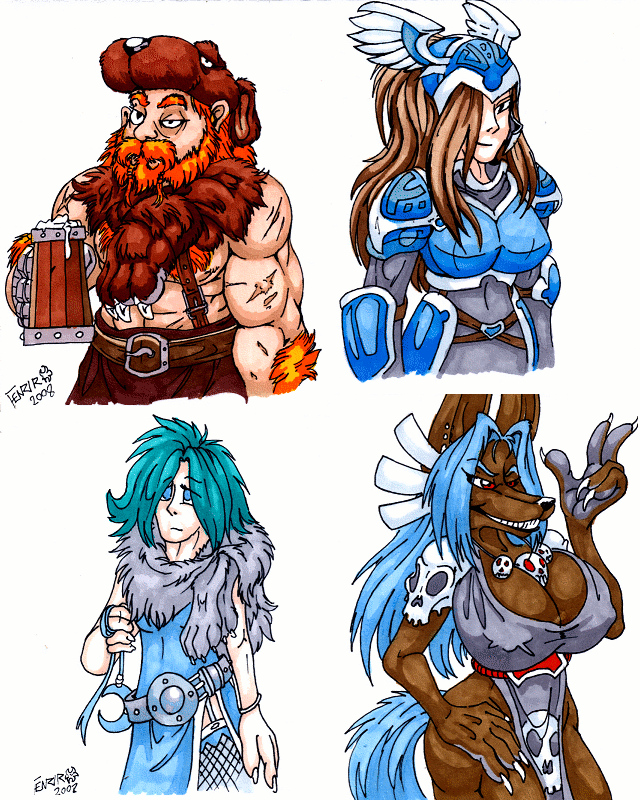 Continuing on, we have a traditional viking berserker in Olaf. In early demo tests, I called him 'Olaf the silly', and the namesake has somewhat stuck with him. He's what you'd expect of a viking warrior, in that he's a drunken, overpowered, buffet of manliness. So manly that behind his beard, there is only another fist. Real men don't wear shirts either. That's supposed to be a "dire hamster" he's wearing as an outfit, which is a reference to Josh's alternate costume from
Halloween Quest 2
.
Hilda bears a small resemblance to Kain from FFIV, in that she uses spears, and has similar attacks. The blue armor also brings up Dragon Knight imagery - but it was actually modeled slightly off of
Megaman X
! Reploids? In MY Midgard? It's more likely than you think? Regardless of her actual inspirations, I wanted another character who was part-way between the viking mythology and the 'mundane' player characters - someone who was already a seasoned adventurer when you encountered her. She's been running around doing Odin's bidding after all. If you need an explaination for why her levels are so high when you meet her - there's your answer.
Night the Shaman should have a strong resemblance to Hati - and this relationship is brought up within the game on many occasions. The lunar wolf has teal hair and wears blue, and you can see some of these traits in the character design with the pelt for a shoulder warmer. You wouldn't be too far off calling her a doppelganger, or avatar. "Nightsilver" was also Hati's nickname in
Timestream Saga
, so in case I haven't beaten that concept into your head over and over, here it is again. This is one of those characters who isn't QUITE in place with the normal world, but doesn't quite fit in the spirit world either. Terra or Rydia, anyone?
It's an in-joke that a witch's magical prowess is dictated by a) the amount of hair she has, and b) the size of her breasts. There's also some anime out there that also suggests that the skimpier one's clothing, the more magical energy you've got. No details on this secret character, except that she's more of a villain than a hero.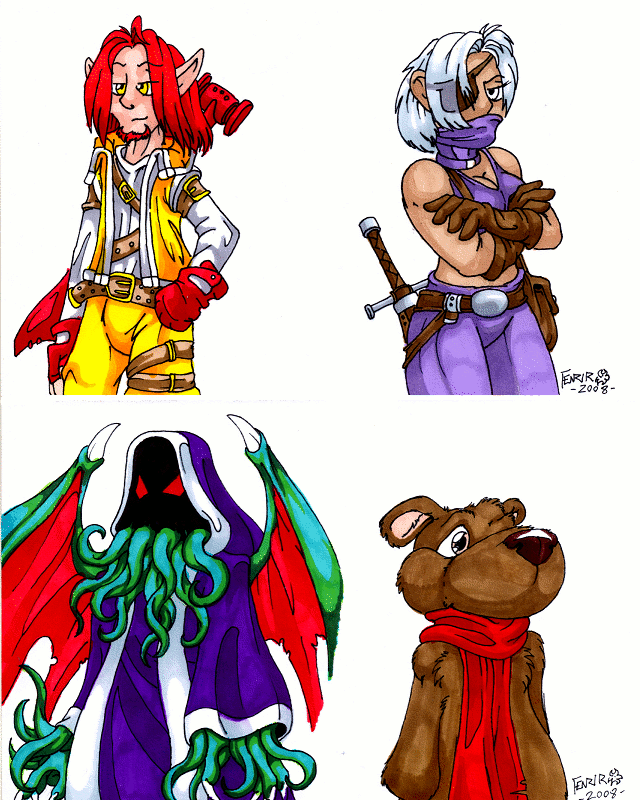 What can I say about Eric? Other than that he looks like Ronald McDonald? No, seriously, look at him. When I was designing this guy, I kept saying to myself that every character had to have their own individual color scheme, and the bard just got stuck with yellow for some reason. What's this guy's real motivation for joining the party - to give little children fries and milkshakes? Perhaps he seeks to even the score with his nemesis, the king of flame broiled beef? Hilarious, but this guy can seriously rock it out with the best of them.
Bram's a thief, and she'll steal EVERYTHING that isn't nailed down to the floor. Give her enough time, and she'd steal the nails too. She's a real money-maker too, and in a world where everything has its price, Bram is out to make a quick buck. Her namesake comes from Delvire Bram's from
Timestream Saga
, and her behaviour is almost a carbon copy of his as well. She's even stolen his eyepatch it looks like. Once you get past the ambiguous morality, there's a hero underneath though.
SP*CKT!! That's going to become a new catchphrase, just wait and see. Cthulhu's design is an homage to the Mindflayers of
Dungeons and Dragons
. You're not supposed to see his face either, whatever he looks like under those robes must be really horrible. Vaguely humanoid maybe. He's the game's primary antagonist, but maybe his reputation is a bit stretched from what he's really capable of. In other words, he spends more time monologuing than actually committing evil. He's a comical servant of true evil. I wouldn't have him any other way.
VOM's version of Bob the Hamster. He's not a playable character, but he's distinguished enough that he should get his own character portrait. He gets a long red scarf here, if only because he needs something to wrap around his body to keep warm.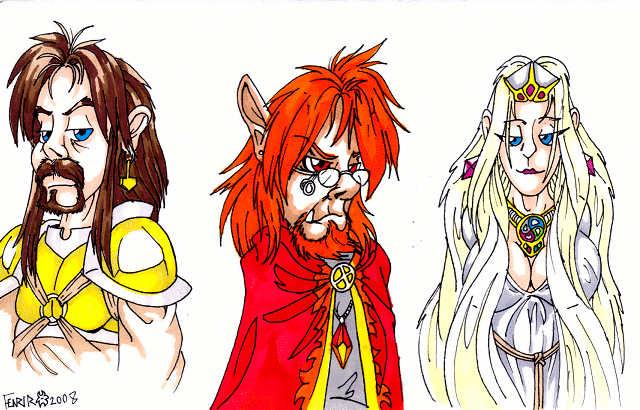 We've got three gods here that you'll run across several times in the game. First up is Thor - yes he looks a lot like Kitt. So he's not the fire-bearded norse titan of viking myth. Here he's more like a superhero in a world of paper - he'd have to hold back his power to keep from causing too much harm. I guess that makes him like Superman in a way. The hammer earring is his personal symbol as well.
Loki's a trickster, a master of pyrotechnics, and the father of most of the world's 'evil' monsters. He's got an eternal scowl, probably from having to bear the brunt of his childrens' misdeeds. Or maybe he's just worn out from having to step aside and let the other gods persecute his family. Maybe this jokester's run out of witty puns, and even humor doesn't bring a smile to his face?
Freya, the goddess of Love, and owner of the Brising Necklace. You're running around trying to restore it and find out where she's been hiding. Once you've gathered its gemstones, you'll begin to unlock its secrets, and Freya will be there waiting to teach them to you. The only motivation behind her likeness is that she needed to be easy on the eye.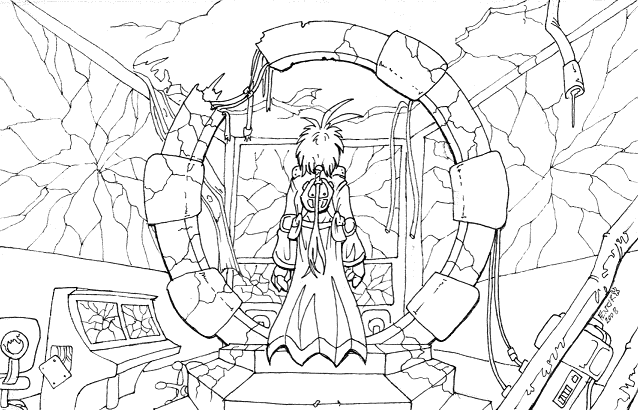 Oglethorp: We have successfully traveled beyond and across both space and time through the Fargate. To get free cable!
Emory: I think it's a Stargate?
Oglethorp: It's the Fargate! "F"! It's different from that movie, which I have never seen, so how would I copy it?
Emory: Chill, man. It's alright. Let's just turn it on.
Oglethorp: I just want to make sure that we are clear it's the Fargate. "Goes far." Get it? And there is no way it came from that movie or that syndicated series based on the movie.
Emory: But it sure was a good movie.
Oglethorp: Ya, yes it was. Turn on the TV, maybe it's on!