While going around, you can shop like above and kill everyone there, causing the police to come, which you can kill as well. You can go to a bank, demand money then a robber comes and you kill as well as the cash registar and the police come which you kill again. You can go to the gas station and kill the person behind the counter for... Drugs, which I have no idea if they serve a point.
Soon, while exploring, you can come across...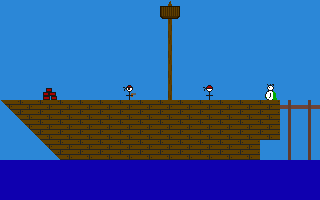 ...Pirates!
You kill these pirates, just like every thing else you've skinned alive in this game. I think the leader of the pirates deserves it just for making a horrible joke about having an eyepatch as a leader, if you ask me. You end up getting bricks as your reward, which you can buy in shops anyway.

Bring the bricks to the NPC that asks for them...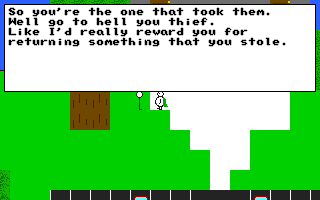 Gosh dangit...
So the game doesn't reward you for keeping a character alive, actually making you want to kill that character even more instead.

Before getting to the last part, the one other NPC on the map are fake vampires. There is a MAJOR bug where it goes into an infinite text loop, causing you to fight a ridiculously annoying battle over and over again. By annoying, the enemies have such high speed and are grouped up, that it takes forever for your attack to get in even after selecting it. Having a text loop like that only causes the player to be trapped, and because saving your game doesn't actually work (the game skips the loading screen), you are actually screwed and have to start all over. At all costs, do not trigger this battle without pressing F2 first.
The last NPC you find on the map is a dragon in the very corner. Presumably you're supposed to level up and get enough equipment to defeat it by killing everything and leveling up from doing so. Even if you do kill all of the NPCs, there are bunnies and stuff in the park you can kill, though it would likely take forever to grind from them. For the sake of getting the review completed, I F4 through the boss, but I did attempt to fight it normally, and I've decided it's beatable, but has a lot of HP and requires a healthy supply of healing items.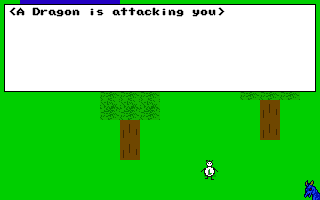 Oh no!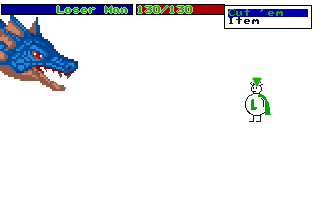 The best graphics in the game, and it's surely ripped.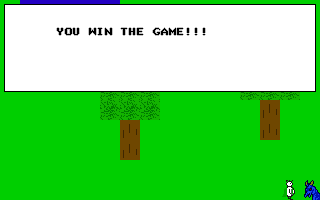 Gosh dangit...
And we're rewarded with absolutely no ending for our efforts. I can interpret this emptiness as the same as Loserman's life, having killed everyone around him, and now wanders the world that is now devoid of life. Truly a loser indeed, though his only dialogue being "Press Enter" suggests that he doesn't even care at all.
My opinions: This game had an interesting premise to kill everything possible while choosing who to keep alive for when you later need them. Unfortunately, you don't need anyone except the shop keeper, and even he will fade in usefulness after awhile. Having others attack you after killing certain groups of characters is also a nice touch (such as other bikers attacking you after you kill a biker, the Police coming if you kill people in stores, etc..)
The game is just bland, though... Everything is so plain, and there is no charm to anything. Even the violence isn't executed in a humorous manner, which I am actually surprised it wasn't (though I feel that it is better that it isn't, considering this is a newbie game, and any attempts of humor tend to be... Below par.) Give this game more to do, have more consequences for keeping characters dead/alive, make it harder to get away with murder, flesh out the game's theme and atmosphere, and for goodness' sake improve the graphics and pick better music, and this concept will actually take off.
Final verdict:
A true game for bored people. Nothing particularly exciting except for the title music and the song used for the pirates. You won't lose much for not playing this game.