Seven Minutes Not of Heaven
A Double Review by Pepsi Ranger
Okay, we get it. Run to the corner store, pick up some liquor in a paper bag, take it home half empty, lament your dog for a bit, and then let out your steam. Now that your right hand is a bloody stump, you're done punching the wall, so you have to finish venting some other way. Oh, yeah, that hamster thing—what's it called?—ORHORGSomething. Vent your frustrations and punish the world through that. Yeah, sounds like a plan. Just spend ten minutes designing a game, rip some high quality music, and paste it to the Game List during your 3 a.m. drunken rage. That'll show the world not to piss you off again.
Reign of Grelok
Download Here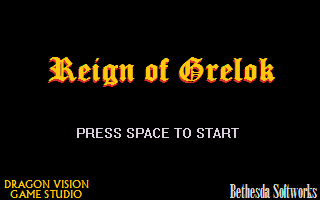 One game, Reign of Grelok, doesn't seem like it was made in a fit of rage. It seems like the author had a plan in mind, and then just got bored with it, as is what happens sometimes. But what consolation is it to the one who plays it in its unfinished state? Maybe the author was going for the tech demo. Maybe he just wanted to show off his graphic skills—he has some fine portrait-making ability for sure. But it didn't seem like he was interested in taking it far enough to really make showing it to the world a sensible move, so I don't know what's going on here. Perhaps he wanted some feedback on the direction. Or, it's possible he wanted ideas from the community on what the story should be about—that seems to happen too frequently, I've noticed. It certainly seemed like he had some kind of plan initially, with a Viking talking about a maelstrom and the title screen talking about Fallout 3. But I have no clear idea where the game actually wants to go. Of the characters that actually have something to say, they tend to stick to the RPG basics, "Have a nice day," and so on. However, the ones you think might have something to say only stand there to test out the battle system, which isn't even new—it's just the default battle system with a blank screen and a pretty sprite.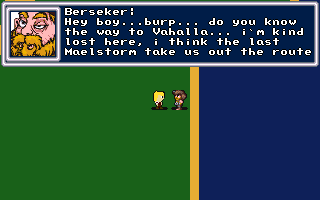 If it isn't clear, Reign of Grelok isn't worth it. At least not now. Portraits and enemy sprites are nice to look at and the walkabouts are fair. Map design is clearly unfinished, and the story is nonexistent. It does have nice music, and if you wanted something dark and moody to listen to on your lunch break, this would be the soundtrack of your choice. But I'm sure you're not looking for games to download just to have some good music. You want something of substance, and this isn't something of substance. In short, this game has nothing to it.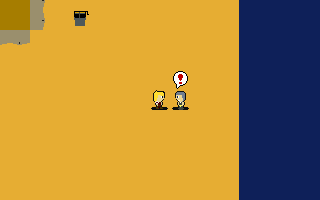 But you're not looking for a nice unfinished game, are you? No, you want that Arfenhouse clone, don't you?—the one that knows it's bad and revels in it. You want that sick little puppy of a game, right?
An Odd Thing
Download Here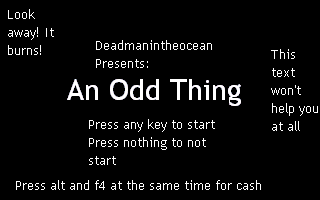 An Odd Thing is a love letter to substance abuse. A kid finds "an odd thing" in his father's drawer and is immediately whisked away into this nightmarish dreamscape where stars pan out under his feet, and goblins, and ninja spoons who appear in four different forms—including one where it wears a skirt—want to fight him. But because he is high on life—and other things—he absentmindedly attacks everything, and then meets a special partner, a certain current political leader, and moves on to fight the giant "Dino Head," aka, the political leader's arch enemy. When Dino Head goes down, Ian wakes up, and then his dad asks him why he went for his stash. That's when we see evidence of his dad entering into the endless loop of his own nightmare.
In short, it's stupid.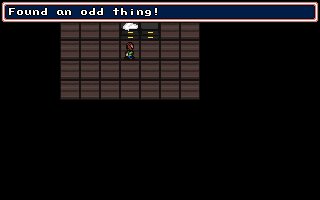 Yes, there is movement allowed. Yes, there is dialogue. You could even say there is some fighting involved (of the 6x-a-hit variety). But it's total Arfenhouse flair, and that stuff hasn't been amusing for at least ten years. The jokes aren't funny. The hero's battle graphic is pretty good; though, everything else looks careless. And the music is tolerable, but pointless as it doesn't really establish a lasting mood—how can it?
In short, it's stupid.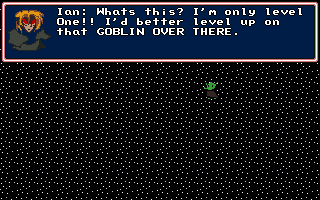 If you really feel inclined to play these games, then you could probably finish them both in about seven minutes combined. But I think there are better ways to spend your seven minutes than to satisfy someone's middle finger to the world. You owe it to yourself to do something more interesting with your time. One day, I hope the games that find their way onto the Game List will somehow attract quality during their courses of development. Until that day, however (and will it ever really come?), I think we should just wave our hands and signal these games to keep moving along.
Anyway, it's a shame that we can't just review games on speculation for the very reason that every seven minutes of our lives is valuable. Having said that, value your life. Don't waste your time.