Mazes and Hamsters
A Feature by Fenrir-Lunaris
This month we begin a new feature called "Mazes and Hamsters"; a project to convert the various races found through out the OHRRPGCE universe into playable character races for Dungeons and Dragons (3.5 edition). Most of these won't look, or sound, or even read like any of the bizarre characters we've come to know. But that's all right! Let's begin by looking at our first race...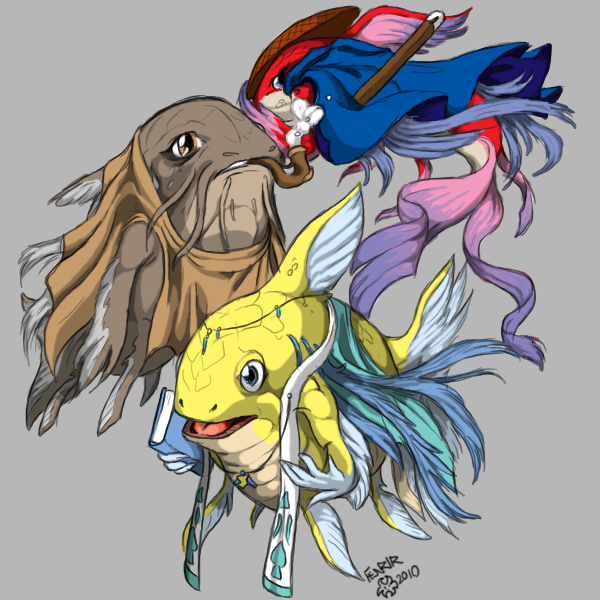 The most well known inhabitants of the land of
Walthros
, Walthrosian "fish" are an intelligent, gregarious race of craftsmen, traders, and warrior-scholars dedicated to their mysterious arts.
Personality -
Walthrosians have a strong tendency to become enraptured in their work, devoting themselves with a steadfast determination to see a particular task to its completion. Some individuals have been known to go for days without rest in pursuit of whatever goal they have set. This steadfast determination of theirs has stereotyped the race as being relatively narrow-sighted in their goals - though a given Walthrosian will (with few exceptions) be an expert in their field. They have produced more then their fair share of powerful wizards and well-articulated leaders.
Physical Description -
Walthrosian Fish tend to have varying shapes and forms like most fish, though they share a common body structure. Their bodies tend to be portly and rounded, a good three or more feet across, with large mouths and bright, attentive eyes. A pair of fin-like "arms" with surprising dexterity enable them to grasp and manipulate objects. Most Walthrosians also seem to be capable of breathing both air and water, though some wizards and researchers have speculated that the "capes" that seem to grow from their sides and backs are actually an elaborate set of highly specialized gills. Outside of their aquatic environment, Walthrosians also appear to be capable of a limited form of levitation, though they cannot truly fly, and any attempt to do so quickly tires them. Male Walthrosian Fish tend to be more colorful, with a wide range of bright colored scales, fins, and patterns all over their bodies, though there are exceptions. Most seem to have relatively short lifespans, reaching adulthood by about 12 years, and rarely living more than a century.
Relations -
In their homeland of Walthros, these fish often find themselves allied with Selkies, Lizardfolk, and an assortment of diminutive mice-folk. They do not openly wage war, though a few notable individuals have formed mercenary parties for the purpose of rooting their lands of monsters, such as Yuks, Blarrgs, and Ralz. They bear no strong prejudices against other races, and are usually accepting of strangers and travelers within their lands. Walthrosians often find themselves
cast as the group "leader" in a troupe of mixed races, though they are by no means expertly suited to that role.
Alignment -
Most Walthrosians tend to be lawful neutral, preferring an orderly, rigid lifestyle that allows them time to pursue their crafts and hobbies, though by and large they have a generous streak. Adventurers among their race often display more divergent ethical and moral values than their racial norm.
Walthrosian Lands -
Walthrosian Fish tend to build their communities in and around reefs where they can cultivate their major crops of kelp-weed and domesticated yuks. Though a few of their kind have established settlements in the mountains, most Walthrosians do not venture far from the sea. As a result, they are also expert navigators, familiar with the coastlines and shoals surrounding their homes, and have a great depth of knowledge about the creatures that inhabit them. Much of their nautical knowledge deals with which creatures are edible, and how best to cook them. Their cuisine is very strongly nuanced, with great variations between each settlement, though most non-Walthrosians would find their food unpalatable at best.
Religion -
Their society is led by a very loosely organized band of clergy who have devoted themselves to the patron saint of their race, Bobblin Surlaw, a commoner who has been elevated throughout the years to a status of near-godhood for his legendary exploits. Among his exploits was the discovery and protection of a certain series of enormous magical jewels, and the construction of shrines and temples to house these jewels. Every Walthrosian hopes one day to have visited each of these shrines in their lifetime, and many adventurers of their race have set out on a pilgrimage of sorts to achieve this task.
Language -
Walthrosian Fish have their own language, with a few distinct dialects and inflections which differ from settlement to settlement. They also tend to pick up the languages of other aquatic races that live near them, such as merfolk, sahaguin, and in some cases the bizarre speech of the various monsters that hail from their native lands. Adventurers among their race quickly learn the common tongue, though they have trouble pronouncing certain sounds, lending them
the unfounded appearance of being slow witted.
Adventurers -
Walthrosian Fish who find themselves on the adventuring path are a strange lot. They are usually acolytes of their clergy in training or on a pilgrimage to find the shrines left behind by their patron, Bobblin. Others are wizards in search of fantastic tomes and rare artifacts they've been studying, and have been drawn out of their reef-citadels in pursuit of them. Others are simply out for a sense of wanderlust, and are out to find some new "thing" to direct their attention to for a while. The world is a big place, and the Walthrosians are sure to find their place in it.
Walthrosian Racial Traits


* +2 Intelligence, -2 Strength, - 2 Constitution : Walthrosians are quick to pick up on new skills and eager to embrace new experiences. Their delicate bodies however are not suited to hard labor or warfare, and they shy away from hostility when possible.

* Small: As a small creature, Walthrosian Fish gain a +1 size bonus to Armor Class, a +1 size bonus to attack rolls, and a +4 bonus to Hide checks, but they use smaller weapons than humans use, and their lifting and carrying capacities are three-quarters of those of a medium size character.

* Walthrosians' base land speed is 20 feet, though in water their speed is doubled to 40 feet.

* +4 racial bonus on Move Silently and Swim checks.

* Their bodies actually levitate a few small inches off the ground, so they might not trigger traps or be hampered by environmental hazards or obstacles other races might encounter.

* Weapon Proficiency : Walthrosian Fish receive the Martial Weapon Proficiency feats for the short sword, dagger, spear, trident, and glaive. They tend to use pole arms for hunting.

* Innate ability to breathe both water and air. A Walthrosian Fish is equally at home in aquatic and terrestrial environments.

* Automatic Languages : Walthrosian and Common. Bonus languages: Sahaguin, Mermaid. Walthrosians tend to also know the languages of creatures that make their living by the sea, though they may not be good at articulating those languages.

*Favored Class: Cleric, Psionicist. A multiclass Walthrosian's Cleric or Psionicist class does not count when determining whether he takes an experience point penalty.