Mazes and Hamsters
A Feature by Fenrir-Lunaris
This month in "Mazes and Hamsters"; we visit the OHRRPGCE's most famous race of rodent creatures, and the namesake of the Hamster Republic...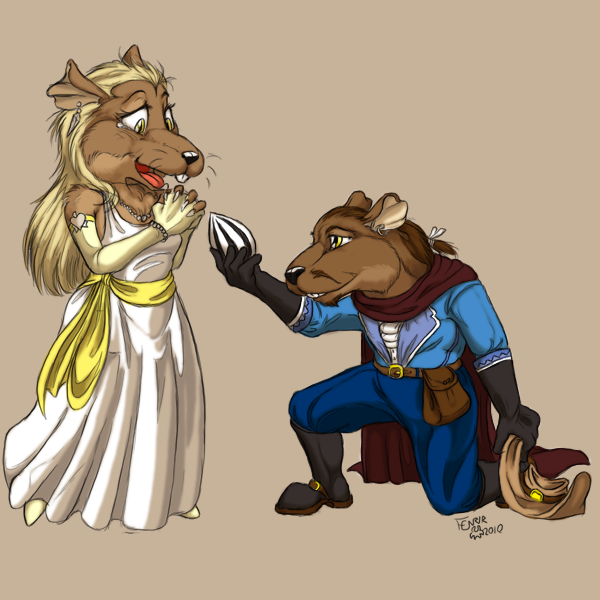 This race of charismatic rodents hail from the land of Flanat - a dangerous land of towering lollipop trees and stalking predators that have chiseled its natives to a life of ever-present wariness and extraordinary caution.
Personality -
Flanatian Hamsters are skittish and ever wary of their environment, constantly on guard around strangers. They're not a race of cowards however - many of their ilk are quite brave in the face of danger, fighting overwhelming odds to defend their homesteads and loved ones. They're more high-strung than most races, due to centuries of predation by wild beasts, but this survival tactic has ensured that their species is a race of SURVIVORS first and foremost. A Flanatian in a party is good luck - odds are, the party will make it out of a dungeon alive.
Physical Description -
Flanatian Hamsters are shorter than the average humanoid, rarely growing over a meter in height. Their heads are large, with wide, attentive eyes and big noses to alert them to the presence of food or danger. Both males and females are covered head to toe in soft fur, ranging from a dusty sand coloration to dark brown, with some variants of golden and muted gray showing up now and then. A few even have hair in the traditional sense, usually swept back along the neck and shoulders as a mane, or tied in long locks to indicate their status. "Mustaches" are common and considered trendy among the younger generations. They have short lifespans, reaching maturity quickly by about 8 years of age, and most live to 50 years or so, though few Flanatian Hamsters die of natural causes so their true lifespan is difficult to gauge. Their families are also quite large, with many, MANY children who usually share the same first name.
Relations -
In their homeland of Flanat, the hamsters tend to keep to themselves, though they welcome outsiders who prove themselves trustworthy and treat them as part of their rather extensive communities. They get along remarkably well with Walthrosian Fish, who are almost their opposite in personality, though the remarkable patience of the Walthrosians is probably soothing to most Flanatians. They are extremely distrustful of the cat-folk of their homeland, the Ixnekolans, likely due to centuries of persecution - if not outright hunting. Some wizards have even suspected that it was the Ixnekolans who unintentionally forced the Flanatians to evolve into a sentient race. Regardless, these hamsters don't get along well with the more truly monstrous races.
Alignment -
Flanatian Hamsters by and large are mostly good or neutral, though they have tendencies for chaotic behavior given that they are prone to wild delusions - believing that they'll be mugged by rampant cacti in their sleep for example. Heroes of their race are usually those who have taken it upon themselves to face up to their fears - real or imagined - and will display much more ordered and lawful tendencies. Evil Flanatians have also been known to exist, seeking to impose their own violent brand of justice on a world they view as largely unsympathetic and uncaring.
Flanatian Lands -
Flanatian Hamsters tend to form more or less constitutional monarchies they call "Republics", which are led by a king who keeps a close circle of popularly elected advisers. Individual settlements are mostly left to their own affairs, with a loosely organized militia of soldiers and partisans protecting the borderlands. Their cities are crowded and always lively, with a heavy emphasis on farming (seeds and carrots feature prominently in their cuisine) and education.
Religion -
Flanatian Hamsters have this unspoken belief that there's someone or something watching them at all times, and most hope it's at least benign, if not benevolent. There's no dedicated clergy per se, but their race has never been outspoken about their particular religious beliefs. They're usually rather tolerant of others' beliefs however.
Language -
The Hamsters of Flanat speak common, and their own language (which is linguistically indistinguishable from Esperanto) which they call "Hamsterspeak". They also quickly learn to speak the languages of races they live with, such as gnome, halfling, and sylvan.
Adventurers -
Flanatian Hamsters who are drawn to the adventuring life are an unpredictable lot, usually drawn by the promise of testing their limits and overcoming their fears - those who manage to do so are almost guaranteed to become powerful leaders in their homelands. They usually fill the roles of scouts in a given party due to their small size, ability to hide, and quickness of foot, and are rarely caught unawares. For the most part, they make excellent rogues.
Flanatian Hamster Racial Traits


* +2 Dexterity, -2 Wisdom : Flanatian Hamsters are very nimble and agile, ready to spring into action, but they have a tendency to be very inexperienced.

* Small: As a small creature, Flanatian Hamsters gain a +1 size bonus to Armor Class, a +1 size bonus to attack rolls, and a +4 bonus to Hide checks, but they use smaller weapons than humans use, and their lifting and carrying capacities are three-quarters of those of a medium size character.

* Hamsters' base land speed is 40 feet, due to their extremely fast legs. They can also burrow at a speed of 10.

* +2 racial bonus on Hide, Listen, Move Silently, Spot, and Survival checks.

* +1 racial bonus to reflex saves, and a -2 racial penalty to will saves.

* Weapon Proficiency : Flanatian Hamsters have the martial weapon proficiency for Hammers, Daggers, Short Swords, and Clubs.

* Automatic Languages : Hamsterspeak and Common. Bonus languages: Gnome, Sylvan.

* Favored Class: Rogue. A multiclass Flanatian's Rogue class does not count when determining whether he takes an experience point penalty.