Motrya
is set in an academy of magic (of Forlae in this world) and the main action begins shortly before the latest class's graduation ceremony. The game draws you in right away by opening with a cutscene depicting the hero holding a dying friend in his arms. It's well drawn and it effectively sets a tone for the events to come. This scene takes place later in the story, and the events that the player controls are told in flashbacks narrated by the hero, Murlor.
The world of
Motrya
is one in which some races have innate magical ability to varying degrees and others do not. Murlor is somewhere in between; he can channel the power of magical scrolls to direct spells, but seemingly has no spiritual connection to these spells. He's an orphan of unknown origin, and in true RPG fashion he winds up becoming a lot more than he ever expected. In this release, Murlor gains access to two different abilities, the first of which is integral to figuring out how to defeat harder enemies, and the second of which is a powerful attack that actually feels great to use.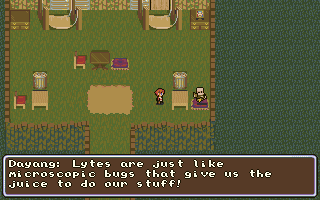 There are no random battles in this game. All combat occurs at scripted moments, and the player is fully healed after. There are a couple of optional battles that can be fought for bonus experience and items, slightly breaking up the linear structure. Your three heroes (the other two are Dayang, a wind-powered bro with a fashionable headdress, and Icebird, the academy's star student) have no physical attacks. Instead, all of their combat abilities are magic-based. I'm definitely a fan of this, since you can't just hold down "Attack" to get through battles here. Each character can equip a scroll to their weapon slot that allows them to use that scroll's spell as their primary battle command. Aside from those spells, each character has their own set of unique abilities, all of which I found useful. Being able to mix and match scrolls between characters changes battles pretty significantly, and adds a nice bit of strategy to battles.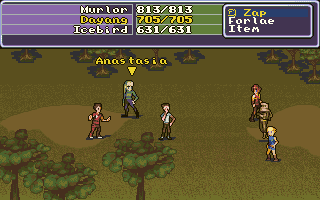 The battles themselves are well balanced and the later ones are a definite challenge. Since there are no random battles to account for, JSH was able to nicely balance every fight, making sure that the player neither breezes through them nor gets instantly wiped out. If you do die, you can retry a battle immediately with the option to rearrange your characters' equipment. Since elemental weaknesses are so important to this game's battles, shifting scrolls around can have a huge impact on battles.
There aren't any towns to play and shop in, the story forces the player down certain paths with little chance to deviate from them, and each battle is self-contained by the nature of giving the player full HP and MP back afterwards. In this way, and in the way the game uses its own original terminology to discuss its world,
Motrya
feels more like
Final Fantasy XIII
than any other RPG I've played. I know JSH hadn't played FF13 when
Motrya
went into development, so in my eyes it's just a very fortunate coincidence. From a gameplay perspective, I absolutely loved FF13, so finding what amounts to a spiritual lost sibling in an OHR game is a real treat for me. If you hated FF13's structure, parts of
Motrya
are likely going to bother you too.
I really have very few complaints about this game, aside from "I really wish it didn't end after the first chapter," but that's understandable given the contest deadline. The rest are mostly little nitpicks. The sound effects are often too loud compared to the music, though JSH tells me this seems to vary from computer to computer and is therefore likely an eccentricity of the engine. The bleeps and bloops on the menus are kind of annoying. The game could use a glossary, since you get a lot of terminology thrown at you that does a great job creating a world that feels real but at the same time is overwhelming at first. Icebird is kind of a bad name for a character. Obviously, none of these are real problems with the game, and I have far more to say positively than negatively. The pacing's great, even if some of the scenes are a bit wordy. The battles are challenging. The detail in the graphics is perfect (clothes change at certain points in the story, and one of your characters takes a depressed, down-trodden stance in battle after a tragic event occurs). The music's the best original work I've heard in an OHR game. I could go on, but really, just play it for yourself.
Motrya
also contains a very full-featured card game inspired by
Final Fantasy VIII
's Triple Triad. Honestly, it's the only part of FF8 that I think still stands up well, so I'm happy to see its basic form transplanted into a better game. Lyte Snap is a fairly simple game in which two players place cards on a field, each card having a number on each of its four sides. The card with the higher number defeats adjacent cards, and the goal is to control as much of the field as possible by the time all cards have been played. The challenge comes from elemental squares on the playing field that modify card power and abilities that can be equipped to further manipulate the game. An entire article could be written on this mini game alone.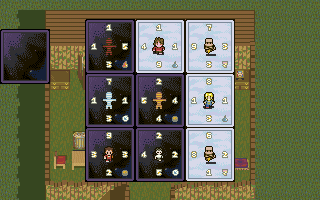 In its current form,
Motrya
lasts about two to two and a half hours and covers one complete chapter of the game's story. It ends on a cliffhanger, but it doesn't end abruptly and you don't feel cheated. The demo is very much worth playing, and I can't wait to see how the final product turns out. Definitely one of the high points on the OHR for all of 2010.