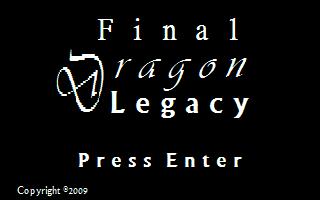 My first attempt at Final Dragon Legacy lasted five minutes. Thrust abruptly into a prologue, I cruised a boring dungeon and chewed through frequent encounters. My two PCs were ludicrously fast with a roster of redundant and esoteric spells. Reaching a boss, I died with no save point and deleted the game. After mjohnson09288's plea of "help me unsuck my game", I gave it another whirl. Forcing through the confusing prologue, I was rewarded with grand adventure in the classic JPRG tradition. As a "demo", Final Dragon Legacy's scope is considerable. 8 hours took me through a dozen towns and dungeons, and I still have one left. Even in its incomplete state, the ambition is palpable, with promises of more features to come. Battles are mostly balanced, graphics range from passable to good, and presentation is polished, featuring a custom menu and informative icons. There is no lack of effort here.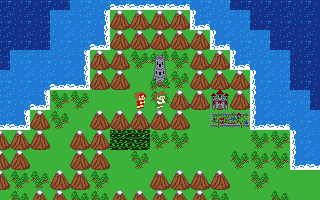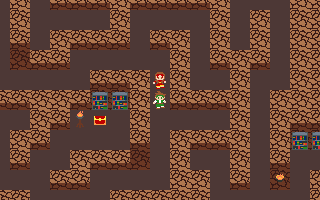 Final Dragon Legacy's structure and style borrow from Dragon Quest (specifically Dragon Quest 2) heavily enough to seem like a fan game, furthered by Slime and Dracky cameos. The story draws on JRPG tropes, mixing (too) meager touches of Norse mythology. As a boy warrior, you undertake a quest to find your missing father, the legendary hero Friedrich. This translates to traveling town-to-town and dungeon-to-dungeon, gaining allies and grinding levels. The core mechanics work fine. Battles are tough, fair, and occasionally tactical. Enemies wield powerful debuffs and status effects for great challenge. Your attacks are primarily of the hurt/heal variety. Sadly, your more interesting abilities ("blind", "mute") are barely useful, but I suppose that's a JRPG tradition. Battles are fast and lethal due to high speed and damage. Things easily get out of hand if try and hold space bar, so prioritizing and constant healing are necessary. My favorite boss is a magic sword that deals crazy physical damage. Defense buffs, regeneration, and healing are your only hope for going toe-to-toe with this mother.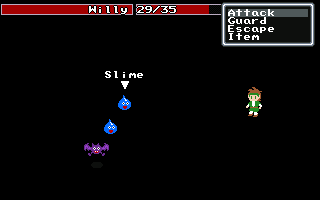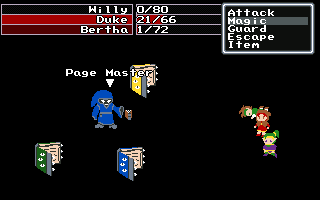 Of course, there are rough spots too. The frequent encounters are tiresome in longer dungeons and there are some sudden difficulty spikes to grind through. But more serious than that are two big decisions likely to invoke ire. First: Battle speed is fast. As you progress, hero/enemy speed stats grow gradually. By the time you get a third hero, it's manic. The option for "active" or "wait" battles is appreciated, but has only slight effect. Second, and more polarizing: There are no dungeon save points. Later, after a few dungeons, you receive a spell that lets you save anywhere. However, it utilizes a rare disposable component that you'll find approximately once a dungeon, making saves a resource to be managed. I appreciate this challenge-adding feature, but readily acknowledge that it's insanely frustrating, worsened by the fast, fatal battles.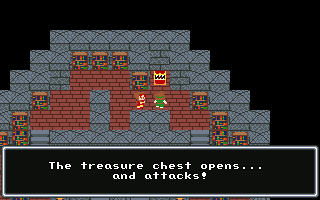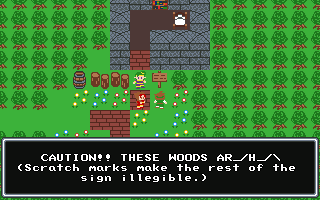 While Final Dragon Legacy is mostly about fisticuffs, dungeon design shows occasional inspiration. Mazes, traps, switches, word puzzles, secret doors, hidden items, and optional bosses break the monotony. My personal favorite is an abandoned shack in a forest. A partially illegible sign provides a cryptic warning. Sleeping in the shack's bed rejuvenates you, but in the middle of night deadly ghosts ambush. Also not to be missed is the balls hard catacomb dungeon, a winding multi-level maze rife with locked doors, concealed pits, and overpowering enemies. For further amusement (and frustration), it immediately follows another sizable dungeon—an epic test of your navigation and resource management abilities.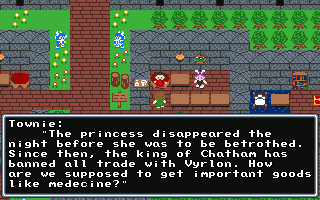 Final Dragon Legacy is made with love. Clever ideas and plotscripts abound: an in-game manual accessed via the menu, a "commune" spell to get hints from important NPCs, and traces of a synthesis system. More features are in development: special shops and "flight" and "dive" spells. There are even sound effects—an OHR rarity. Final Dragon Legacy is so absurdly ambitious I suspect it will never be done. I challenge mjohnson09288 to finish it, balance it, and polish it. It'll be at least as good as those crusty old Dragon Quest games, and that's the point, right?
And now, an interview with Final Dragon Legacy creator mjohnson092088
Willy Elektrix
: Undeniably Final Dragon Legacy is highly inspired by Dragon Quest. The style and themes are highly reminiscent and Slimes and Drakies make cameos. Are there any other games that influenced the design of Final Dragon Legacy in a less obvious way?
mjohnson092088
: Yes, Dragon Warrior/Quest was one of the games that inspired FDL. Another big one that FDL pays homage to is the original Final Fantasy games for the NES. The name itself is derived from Dragon Warrior/Quest, Final Fantasy, and Legacy of the Wizard ("Final" from FF, "Dragon" from DW/Q, and "Legacy" from Legacy of the Wizard). Although, the game is more of an homage to all NES-era RPG games, but mainly DQ/W and FF. The spells in FDL and FF have some similarities, with slight differences appearing in neither DW/Q or FF. Yo be honest, the entire reason why slimes and drakees, along with the big slugs, anteaters, and horned rabbits make an appearance at all is because FDL started out as a simple game to test plotscripting, damage formulas, gameplay features, etc. for my original project, which may or may not be a sequel to FDL. That is, if I ever get back to work on it, of course. anyway, since FDL was originally just for testing, I didn't need to have "great" graphics, or even original ones. so, I chose the monsters from Dragon Warrior/Quest because they were rather easy to draw, and basically just gave me something to work with. I plan to at least replace most, if not all of the DW/Q monsters with "original" monsters by the next update... whenever that will be.
Willy Elektrix
: I didn't make the connection to Legacy of the Wizard, but I totally appreciate that your game's title is a triple homage.
Final Dragon Legacy's setting draws on Norse mythology, evidenced mostly by character and location names (Loki, Nidhoggur, etc.). What influenced you to incorporate these elements? Does the plot reference any particular Norse legend? How do you plan to further incorporate these myths? Will the new original monsters be derived from Norse folklore?
mjohnson092088
: I got the idea to base the game on Norse mythology after finding a few books in my local library on the subject. after reading through them, I thought that these stories would make a great setting for a fantasy-type game, and even more perfect for my first real game. The Norse myths will be a big part of the plot. There isn't much else I can tell you about that without spoiling the game, however.
I will say that the legend about ragnarok plays an integral role in the plot, as does the death of the god of light, baldur. As for monsters, I've already incorporated some enemies based on the mythology. for example, the giant hrimthurs, who was tricked by the gods into building the giant stone wall around Asgard, makes an appearance as a huge golem-like monster in the very beginning of the game. Also, the "spirit warriors" will be renamed Angurvadel, after the magical sword of the hero Frithiof, which fights on it's own once it has been unsheathed, and will not return until it has spilled the blood of it's enemies. Other major ones that I plan to add include Garm, Hraesvelgr, Fenrir, Jormungand, Goin and Moin, and various other vile beasties.
The last reachable area in the current demo will be renamed Avartalfheim, which roughly translates to "land of the dark elves". Dwarves and dark elves are mentioned often in the legends, and one is led to believe that they are one in the same, with the names being interchangeable, probably depending on the region in which the legend was being told. now that I have pretty much finished my research, I will be adding many of the legends from Norse mythology. As of now, I haven't yet decided which ones I will be including.
Willy Elektrix
: It sounds like there will be significant revisions to the demo material before the game's final version.
Final Dragon Legacy is incredibly ambitious. What portion of the final game does the current demo comprise? How much other work have you done that isn't included in the demo? Do you have a specific time line for completion in mind? How long have you been working on the project?
mjohnson092088
: I really don't know how long the game is actually going to be. on the other hand, the world map is already mostly complete. I have a vague sense of what is going to be where, but I may change or add things, such as towns and various dungeons, to the map by the time the game is completed. in fact, I plan to have an underwater map of the world once I implement the "dive" spell, and once the player is able to reach it, asgard, the land of the gods, will be somewhat of a slightly smaller world map as well. I'm just trying to fix bugs with gameplay and features that are already implemented right now, but I may also add things later on in the game, so there is no telling exactly how much gameplay is going to be in the final project. as such, I cannot say when this game will ever be completed.
Since the OHRRPGCE is constantly changing and evolving as a development tool, my two-year project (which I have worked on VERY infrequently in these past two years) has also been changing and evolving, and will continue to be changed and updated using new features if I feel I have use for them. For example, with the addition of new attack attributes, I have been able to "fake" new status ailments in the sense that there is now a way to make monsters and heros resistant. More specifically, it has allowed me to add a "blind" status effect to lower accuracy, and I can now differentiate between "poison" damage, and the "poison" status effect itself (meaning enemies and characters that are immune to the status effect aren't neccesarily immune to the damage itself. In fact, some monsters might be weak to "poison" type damage, but entirely immune to the debilitating effects of the "poison" status). This new feature actually fixed how I had planned for poisoning to work in the first place, so I'm happy it was added.
I'm currently working on a way for players to make items using a customized menu screen, rather than using the default shop screen, which is just a placeholder for now. I'd leave it that way, but the default shops don't work quite how I'd like them to. The main problem with that is that items appear in the menu when the player hasn't found the appropriate recipe for that item. I'd like for the "alchemy" system to be completely customized using the menu screens anyway. I have lots of plans to add more material to the game, mainly in the form of sidequests. For example, you might have noticed the strange blue doors that cannot be opened no matter what key you have. Acquiring the magic key to open the door consists of completing at least two sidequests. Then, the player is free to open the blue doors containing powerful magic items, and even a dungeon for high level characters containing... well, why should I tell you that? You'll all just have to complete it and see for yourself! trust me, I plan to make it worth your while, as you probably could have guessed. Smile also, there will be a sidequest dungeon that is accessible once the player has acquired the kayak, which is gained after completing the quest that is started at the end of the current demo.
Willy Elektrix
: Final Dragon Legacy contains significant plotscripting and numerous custom menus. Other than the aforementioned shop screen, are there other engine limitations that you clash with constantly? If you could add any features to OHRRPGCE to aid the development of Final Dragon Legacy, what would they be?
mjohnson092088
: The battle system tends to be a big problem for me. it's getting better with the improvements to the OHR, but there are still many things that don't exactly work like they're supposed to. For example, I mentioned the "poison" status and elemental attribute before, solved by the addition of more elements. There are also other issues, as well. The third-tier attack spells that Nidhoggur uses during the beginning of the game are actually two attacks that are chained. However, if the player chooses a command during the first part of the spell, the player's command is carried out before the second part.
Another problem that I face is the boss battle with the Pagemaster. The Pagemaster himself is not very powerful, but he is accompanied by three animated books which he is supposed to have "control" over. Defeating a book spawns a "pile of paper" that appears underneath (or is supposed to appear underneath, I wish there was someway to choose exactly where monsters spawn from other monsters). If left alone, the Pagemaster will transform the pile of paper back into one of his book minions. However, casting a "fire" spell on the paper destroys them, preventing the Pagemaster from reanimating his minions. This doesn't work quite how I'd like it to. with the way the default battle system works now, the Pagemaster won't reanimate a book unless all the other books are defeated as well.
What I'd really like to see is more support for status effects. I'd like to be able to create multiple status effects with different but similar effects. For example, "sleep", "stun", and "petrification" all stop the hero from being able to take actions, but are handled and healed in different ways because of their inherent properties. obviously, "sleep" wouldn't last as long as "stun", and "petrification" would last until the player is healed. However, being afflicted with one or more of these status effects leads to problems with priority. this could also be used to handle buffs, since right now faking buffs clashes with faking debuffs and leads to problems such as irregular stat increases, decreases, and within similar status effects. There's also no way to tell if a player is afflicted with a buff or debuff that doesn't fall under the poison, mute, stun, or regen registers since these are represented with a symbol on the player's health bar in battle.
Willy Elektrix
: Admittedly, I have not made it to the Pagemaster yet. From your description, that battle sounds promising. Do you have plans for any other particularly unique boss battles that aren't in the current demo? What do you think are the most interesting attacks that you've created thus far?
mjohnson092088
: I've been kicking around the idea of a monster hunting sidequest for awhile now, and I've finally decided to add it. basically, you take on up to three missions at the MH guild, and the monsters will appear somewhere in the world. Sometimes they're easy to find, but sometimes it will take a bit of looking and puzzle solving. These monsters are far stronger than the bosses, and cannot always be destroyed by normal means. sometimes a bit of strategy is needed, which may sometimes include gathering information from the locals. If the player succeeds in defeating a monster, they recieve great rewards in the form of money or magical items, and also a bit of reputation for the guild. Successful hunts give the guild a better reputation and will recieve more dangerous but rewarding hunts. however, an unsuccessful hunt gives the guild a bad reputation, reducing the guild's popularity, and discourages people from posting hunts. hunts can be done multiple times, but the rewards will be lesser.
One of the attacks I've created is a spell called "mouse". it's a spell known only to the hero and Friedrich's bloodline, meaning that they are the only ones who can use it. The spell attempts to transform a random enemy into a mouse, if the enemy isn't resistant to transformation (for example, undead, dragons, and golem are immune). The transformed creature retains it's HP, but it's stats drop to 1. The creature also has a high probability of running away. The hero will have access to a few spells of his own, that no other character can use. I haven't quite decided what, though.
Willy Elektrix
: I love transformation type spells. It's unfortunate that they are never useful due to high MP cost and lack of effect on bosses. Hopefully yours will break the mold. In any case, that was my final question. Thanks for taking the time to give such detailed answers. In closing, do you have any advice, hints, or secrets to divulge about Final Dragon Legacy?
mjohnson092088
: One thing I forgot to mention about "mouse". There's a 10% chance of the spell backfiring, turning the creature into something a little bit scarier than a mouse...
Some advice and hints:
~Don't forget your healing items! These will definitely save your life. Make sure you stock up before heading to a new dungeon.
~Most bosses won't surprise you, and appear on the map. If you think you're headed for a tough battle, use the "commune" item to save before you bite off more than you can chew!
~Keys are essential to any adventurer. Rumor has it that the keymaker's brother is looking for him in greypool.
~You can sell ingredients for extra cash. however, most items require multiple ingredients, so it couldn't hurt to keep a few extra lying around.
And now, some secrets:
~Friedrich is mankind's greatest warrior! Does he really NEED to collect the chests in the beginning of the game...?
~They say the waterfall casts a ghostly glow in the moonlight...
Willy Elektrix
: Thanks again. I look forward to more development on Final Dragon Legacy.