Per the readme, "navigate the streets and fend off thugs as you make your way to the king of thugs Mark at the end of the last street" "you must level up several times to beat this game". Made by fishbone in 2005, Street occupies an abstracted urban wasteland, desolate to the point of apocalyptic. You'll pound endless swaggering clones who exclaim, "Watch it punk!" Inadvertently Kafkaesque, it's fine social commentary (or possibly a metaphor).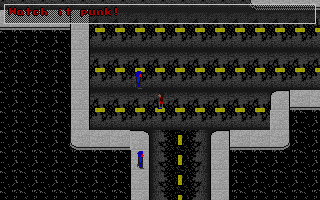 Street has three small, nearly identical maps and a single enemy type. While the repetition adds to the setting's starkness, it's unintentional and lazy. Likewise, half the stats and most of the equipment slots aren't used, and the only skill ("steal") has no effect. Plus the typical amateur mistakes: holey wall maps, jacked animations, and no ending. And particularly annoying, healing items target enemies first. For something so short and simple, the prevalence of bugs is bewildering—especially considering Street is not fishbone's first effort. He made seven games in his month stay at Castle Paradox, most of which predate Street.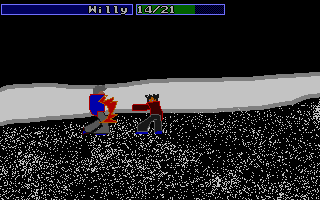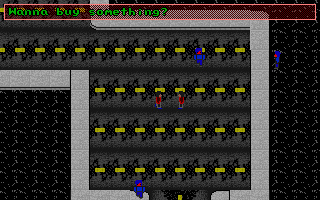 I suppose it's not really surprising—Castle Paradox is rife with similarly ludicrous rubbish. But the purpose of game archaeology (as I sometimes term retro reviewing) is to scrape off the dirt and find each game's tarnished by salvageable core. Street fighting RPGs are a rarity which somewhat redeems Street. I appreciate its primitive but consistent style. Visually, the dingy maptiles contrast the strikingly colorful graffiti-like character graphics. Also, the droning two bar music loop is fittingly dread (and headache) inducing. The setting (urban decay at its bleakest) is thematically compelling stuff, and considering that, the single "steal" skill is almost appropriate.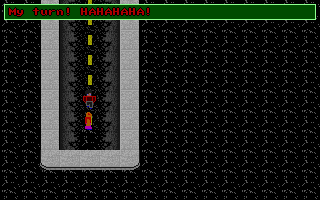 Certainly Street was barfed out lacking content, balance, polish, or anything requiring effort, but serious game makers might find ideas in it. I could imagine a remake, maintaining the claustrophobic world and faceless enemies. The fistfights would incorporate a tactical system of blocks, counters, and holds, plus an array of improvised weapons and stat boosting performance drugs. The structure could remain uncomplicated (kill king of thugs Mark) but progression should be tougher and more harrowing.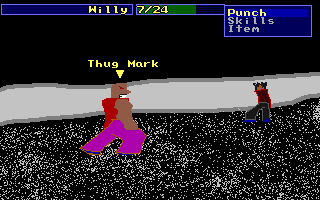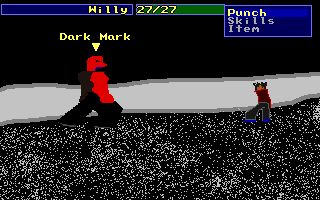 Street doesn't lack vision but it lacks everything else—an unfortunately common theme in my retro reviews (recall Conquer the Empire in issue 48). All these pathetic games are someone's attempt at expression (however futile) and that's why garbage like Street is so tragic. Fishbone's aim is clear but his execution is deeply damaged and the carelessness is heartbreaking. Dear forgotten Castle Paradox users: Please try harder so I don't have to cry anymore.