Clover Slums: Turf War Conspiracy
A Retrospective by Willy Elektrix
Download Here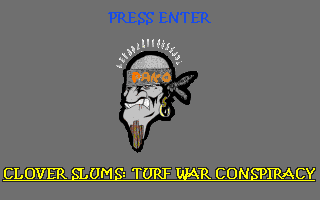 Clover Slums: Turf War Conspiracy is a 2005 RPG by Pako the True G. You may recall my gently critical review of Pako's first effort, Conquer the Empire, in Hamsterspeak 48. Clover Slums is a short and slapdash demo, but it's almost good. Pako developed some maturity. God bless him!

Clover Slums is a gritty tale of street vengeance starring Pako himself. Pako and his crew gun through a decrepit urban wasteland, blasting squatters and gangbangers representing absurd cliques like the sword-wielding Gutters and the Jamaican-inspired Junglemen. I immensely dig Clover Slums' aesthetics. Labyrinthine alleys are littered with trash and wreckage. Attributes, spells, and menus are all appropriately renamed. Experience is "respect", money is "bank", your attack is "Cap 'Em!", and the volume control says "BUMP IT!". Likewise, the dialogue is full of tough jive.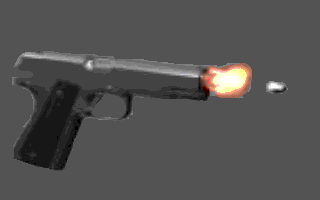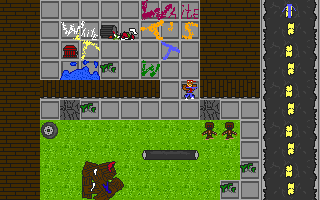 Equally interesting is Clover Slums' ambitious gameplay. Notably, the brief demo contains several sidequests. Typically you are hired to kill someone, but you might also rummage in garbage cans to feed a homeless man. Unfortunately, the quest system's implementation is sloppy and the quests lack significant rewards, but the concept is very welcome and goes far to make Clover Slums seem less linear. There's also an action-based car chase using touch-activated NPCs that is cool despite being infuriating. Another refreshing feature: There are no random battles!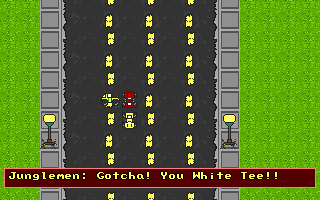 But despite great promise, Clover Slums is a woefully unfinished piece of crap. The demo is less than an hour and would be incredibly easy except for a complete lack of save points. Of course, bugs are in full effect too. The wallmaps are noticeably holey and damage does not display during battles. Regardless, I like Clover Slums. It's stylish and original. If Pako bothered to finish it and devote serious time to deeply polishing it, Clover Slums might be incredible. Currently, it's merely a strange trip into the mind of a true G.