Granasty Maze
A Retrospective by Willy Elektrix
Download Here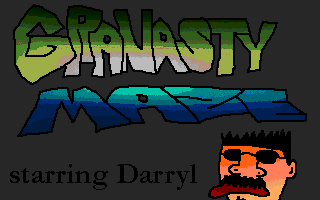 Granasty Maze is a 2006 puzzle game by Onlyoneinall. I suspect "Granasty" is an amalgamation of "grandpa" and "nasty". It might also reference Onlyoneinall's The Eight Granasties (2006). Granasty Maze stars Darryl, a mustached old dude fond of innuendos, off-color jokes, and gyrating suggestively. Testament to Darryl's mischievous wackiness, all Granasty Maze's menu commands do the opposite of what they say.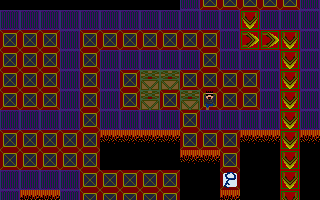 Granasty Maze has no mazes. The 4 levels instead mix various puzzles and arcade challenges including collecting keys, pushing blocks, and avoiding touch-activated NPCs. Scripting is used for one-way halls and speed-changing tiles. In Granasty Maze's cleverest segment, you flee a killer NPC at ridiculous speeds, dodging slow-down fields and grabbing items.

Considering its simplistic sprites and ugly colors, Granasty Maze has surprisingly intricate animation. Fall into a pit and Darryl tumbles head over heels. Destroy a robot and fiery lightning bolts blast it apart. Not to mention Darryl's lengthy and provocative victory dance.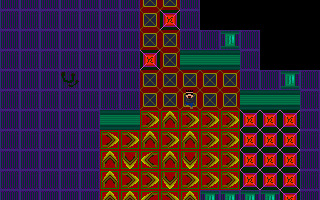 Unfortunately, the demo ends before Granasty Maze gets interesting. The difficulty is nonexistent until levels 3 and 4. The incomplete 5th level is tantalizingly called DDR Zone and has a bumping Captain Jack MIDI. Oh well. Granasty Maze is no lost classic, and if Onlyoneinall bothered to finish it, the much beloved Bloodlust (2007) might have never existed.