Senator Surlaw - The Vindication
A Feature by Paul Harrington


In last month's HamsterSpeak, Senator Gohrilla Proboscis accused newly elected Senator Bob Surlaw of being a lazy good-for-nothing who cared more about cheese and sauce than protecting truth, liberty, and the right to boss around the little people. A special recall election was held to decide whether or not to toss Bob back in the lake, and now, the results are in. By a vote of 12 to 9, Bob Surlaw will

REMAIN

in his position in the senate for the remainder of his term.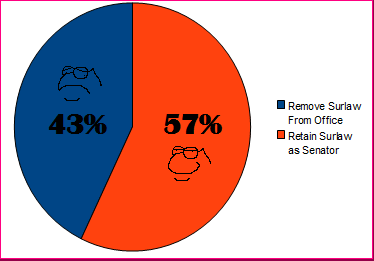 When reached for comment, Surlaw said that he "Expected this. After all, I am one radical dude, and gorillas are bogus. Go back to playing with your thumbs, Mr. Senator. I've got beef to eat."

Senator Proboscis refused to answer our calls but posted a message to his Facebook fans: "Walthros is doomed. With men like Surlaw in charge, we're going to spend the next decade moving backwards. What was once a proud institution now looks like a zoo run by a bunch of Yuks. Disgraceful. Please send your donations of $25, $50, $100, or $500 to defeat Surlaw in 2012."

When asked if he would be running for reelection in 2012, Surlaw winked and held a mask of President Hoover, the planet's first Seal president, over his face and belched. Analysts are unsure of what this may imply. He later claimed it was not a wink, but a reaction to a piece of pastrami that had become wedged under his eyelid.